Blog — unicron
Posted by Chris Carpenter on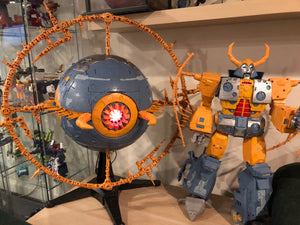 The Unicron Speech and Light Kits are finally available!  You can purchase them here for $165 https://cchobbyfun.com/products/haslab-unicron-speech-and-light-upgrade The kits allow you to add speech and light to your Haslab Unicron kit. They can be controlled via bluetooth from an iPhone or Android device. The kit comes with most of the electronics already installed in an easy to mount box.  You can see the instructions here. Here's a quick demo and an overview of some changes made in the production kit:
Posted by Chris Carpenter on
A number of people contacted me expressing interest in a kit of the sound/speech mod I did for my Haslab Unicron. I'm open to the idea but I wanted to first explain the details of how the mod is installed.  I posted a video to make it clear:   I think the most important thing to understand is that installation of the electronics requires you install the upgrade kit to split robot/planet modes.  It's not super hard but I know a lot of people are sensitive about mods to their purchases. That being said if there is still interest, I...
Tags:

3D printed, 80s, adafruit, circuit python, circuitpython, electronics, haslab, kit, toys, transformers, unicron
Posted by Chris Carpenter on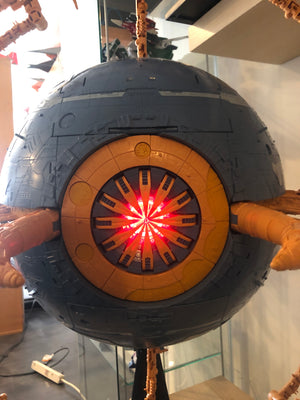 Got the sound and light installation for my Haslab Unicron complete.  You can read the first blog post here. The final install keeps most of the electronics inside Unicron with only the power bank and a USB cable exposed in the rear.  The final setup has a seven segment WS2812B led strip, Circuit Playground Bluefruit (CPB), DFPlayer Mini, a 3" speaker and a compact power bank for the power.  The code relies on the existing Adafruit Bluetooth Lowe Engergy (BLE) libraries for Bluetooth control. This lets me control the sounds and lights from my iPhone or an Apple Watch.  I'm...
Tags:

80s, adafruit, CCHobbyFun, circuit python, circuitpython, electronics, LED, led lights, LEDs, toys, transformers, unicron
Posted by Chris Carpenter on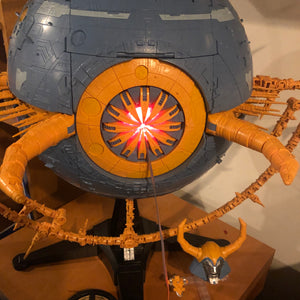 "A ginormous weird lookin' planet just showed up in the suburbs of Cybertron." I got my Haslab Unicron and it is awesome!!! But it doesn't speak.  I really love Orson Wells voice as Unicron, even if he didn't.  So, I'm going to make my Unicron speak.   Below is a test run of a setup I'm working on.  I'm planning to separate the planet ball from Unicron and inside mount the electronics.  The goal is to use addressable WS2812B LED to light Unicron's maw.  I will also have a DFPlayer MP3 player connected to a Adafruit Circuit Playground Bluefruit to play...