Blog — stormtrooper
Posted by Chris Carpenter on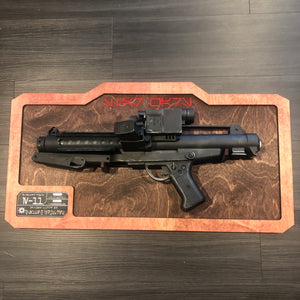 I finished two more blasters and had to make to two more mounts. The E-11 stormtrooper blaster and Mandy's IB-94 pistol.  The IB-94 is a Rubies repaint. I've had it laying around waiting for a repaint for quite a while.  I tried a few new techniques with this one.  I initially filled the plastic Rubies blaster with sand to give it some weight. It worked surprisingly well and it now how a good feel in the hand.  I also used alcohol ink on the grips to give it a wood look. You apply the alcohol ink in drops and use...
Posted by Chris Carpenter on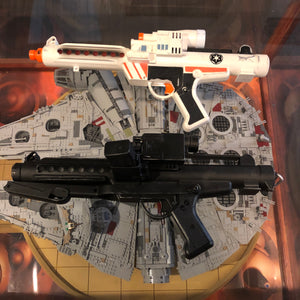 My first install of Simple Blaster OS is going in a Hasbro E-11 conversion.  I've been meaning to do a E-11 blaster for while and just haven't gotten around to it. I actually have two Hasbro E-11 blasters now.  The video below goes over the resin printed parts I'm using.  I really liked the old DoopyDoo kits but they are not available any more. Plus I wanted to get a bit more accuracy by resin printing the parts. So I've made some modifications to E-11 parts I've found online to both fit a Hasbro E-11 and accept the electronics.  ...
Tags:

arduino, blaster, conversion, cosplay, display, E-11, electronics, hasbro, neopixel, star wars, stormtrooper