Blog — Mandalorian
Posted by Chris Carpenter on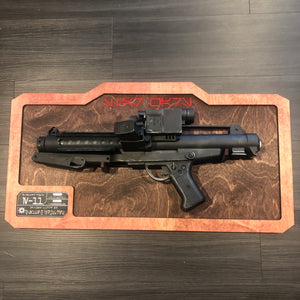 I finished two more blasters and had to make to two more mounts. The E-11 stormtrooper blaster and Mandy's IB-94 pistol.  The IB-94 is a Rubies repaint. I've had it laying around waiting for a repaint for quite a while.  I tried a few new techniques with this one.  I initially filled the plastic Rubies blaster with sand to give it some weight. It worked surprisingly well and it now how a good feel in the hand.  I also used alcohol ink on the grips to give it a wood look. You apply the alcohol ink in drops and use...
Posted by Chris Carpenter on
I've been working on some custom wood mounts for Star Wars blasters and they are now available.  I now have mounts available for the rebel DH-17, Han Solo's DL-44, the Mandalorian's Amban Phase-Pulse Blaster and Boba Fett's EE-3. The mounts all have hand painted engraved Aurebesh.  The mounts are also each stained.  They all come with a laser engraved plaque/data card in Aurebesh.  The boards can also be customized to display different text in English or Aurebesh. They are an awesome way to display your Star Wars blaster collection.  You can also order a custom plaque for your own display...
Posted by Chris Carpenter on
Tags:

art, burl wood, casting, cube, hello kitty, Mandalorian, mold, resin, sphere, star wars, starship, Tie Bomber