Blog — 3D printed
Posted by Chris Carpenter on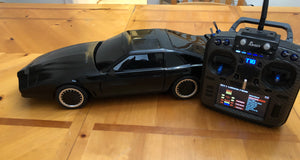 When I was a kid I loved Knight Rider.  I had a plastic toy KITT car that  would play sounds from the show when you pressed the license plate. It was a great toy.  I recently  looked it up online and was thinking about buying one. They weren't crazy expensive. But then I got to thinking, I could make that car and something better.  The best thing about all of the affordable tech we have now is that you can affordably make a lot of things you dreamed of as a kid pretty easily. I figured 3D printing would be...
Posted by Chris Carpenter on
A number of people contacted me expressing interest in a kit of the sound/speech mod I did for my Haslab Unicron. I'm open to the idea but I wanted to first explain the details of how the mod is installed.  I posted a video to make it clear:   I think the most important thing to understand is that installation of the electronics requires you install the upgrade kit to split robot/planet modes.  It's not super hard but I know a lot of people are sensitive about mods to their purchases. That being said if there is still interest, I...
Tags:

3D printed, 80s, adafruit, circuit python, circuitpython, electronics, haslab, kit, toys, transformers, unicron
Posted by Chris Carpenter on
CCHobby recently designed 20 lighted nameplate signs for installation in the FAA Challenger Space Operations Room. CCHobby nameplate signs can be customized with any text, graphics or photos.  CCHobby was chosen because of another well received lighted sign installation at Wallops Island for NASA. The install called for the signs to be mounted on poles next to monitors in a control room style layout.  Custom 3D printed mounts were designed for the signs along with the logos and text. The mounts and signs all cam out great and the customer is very pleased. Here are some pics of the signs. ...
Tags:

3D printed, control room, Custom, DoD, edgelit, FAA, Government, LED lights, lighted sign, monitor, NASA, Wallops Island