Blog — Wallops Island
Posted by Chris Carpenter on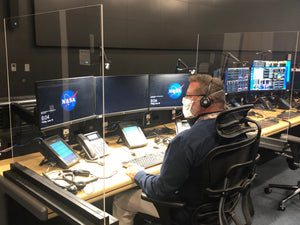 I was recently contacted by NASA at Wallops Island VA to build some acrylic sneeze guards for their launch control room.  They have an upcoming launch and to minimize the chance of COVID-19 inflection, NASA wants to install sneeze guards between each of the control room stations.   Because of the COVID-19 outbreak and the volume of businesses that are installing  acrylic protective barriers, acrylic sheets have become harder to obtain.  I contacted some local acrylic suppliers and managed to get an order of acrylic sheets.   We settled on 36"x 36", 1/4" thick clear acrylic sheets.  The bases were...
Tags:

acrylic, barrier, control room, COVID-19, infection, NASA, rocket, sneeze guard, space launch, Wallops Island, Wood
Posted by Chris Carpenter on
CCHobby recently designed 20 lighted nameplate signs for installation in the FAA Challenger Space Operations Room. CCHobby nameplate signs can be customized with any text, graphics or photos.  CCHobby was chosen because of another well received lighted sign installation at Wallops Island for NASA. The install called for the signs to be mounted on poles next to monitors in a control room style layout.  Custom 3D printed mounts were designed for the signs along with the logos and text. The mounts and signs all cam out great and the customer is very pleased. Here are some pics of the signs. ...
Tags:

3D printed, control room, Custom, DoD, edgelit, FAA, Government, LED lights, lighted sign, monitor, NASA, Wallops Island