Blog — haslab
Posted by Chris Carpenter on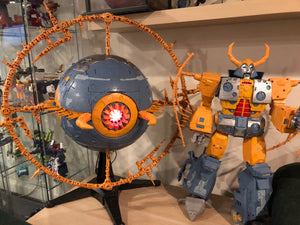 The Unicron Speech and Light Kits are finally available!  You can purchase them here for $165 https://cchobbyfun.com/products/haslab-unicron-speech-and-light-upgrade The kits allow you to add speech and light to your Haslab Unicron kit. They can be controlled via bluetooth from an iPhone or Android device. The kit comes with most of the electronics already installed in an easy to mount box.  You can see the instructions here. Here's a quick demo and an overview of some changes made in the production kit:
Posted by Chris Carpenter on
A number of people contacted me expressing interest in a kit of the sound/speech mod I did for my Haslab Unicron. I'm open to the idea but I wanted to first explain the details of how the mod is installed.  I posted a video to make it clear:   I think the most important thing to understand is that installation of the electronics requires you install the upgrade kit to split robot/planet modes.  It's not super hard but I know a lot of people are sensitive about mods to their purchases. That being said if there is still interest, I...
Tags:

3D printed, 80s, adafruit, circuit python, circuitpython, electronics, haslab, kit, toys, transformers, unicron