Blog — cosplay
Posted by Chris Carpenter on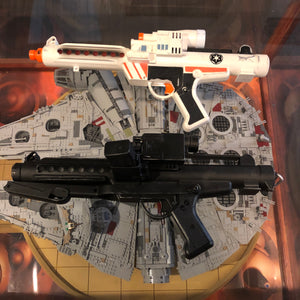 My first install of Simple Blaster OS is going in a Hasbro E-11 conversion.  I've been meaning to do a E-11 blaster for while and just haven't gotten around to it. I actually have two Hasbro E-11 blasters now.  The video below goes over the resin printed parts I'm using.  I really liked the old DoopyDoo kits but they are not available any more. Plus I wanted to get a bit more accuracy by resin printing the parts. So I've made some modifications to E-11 parts I've found online to both fit a Hasbro E-11 and accept the electronics.  ...
Tags:

arduino, blaster, conversion, cosplay, display, E-11, electronics, hasbro, neopixel, star wars, stormtrooper
Posted by Chris Carpenter on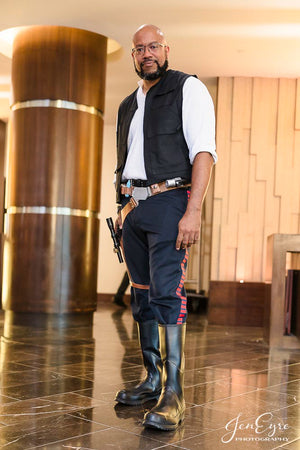 If you read anything on my blog it should be obvious I love Star Wars.  More specifically, I love the Millennium Falcon and its scruffy pilot Han Solo. I've wanted to have a Han Solo outfit since I was a little kid. I recently made a DL-44 blaster and that got me thinking, why not a Solo outfit. When my son reminded me Blerdcon was in a couple of weeks that's all the motivation I needed. I mean, how hard can it be to make a costume??? Yeah.... So, this blog post is going to be less of a how...
Tags:

blaster, Blerdcon, blood strip, boots, Corellian, cosplay, costume, DL-44, han solo, Millennium Falcon, pants, Proffieboard, sewing, Star Wars, vest