Blog — CCHobbyFun
Posted by Chris Carpenter on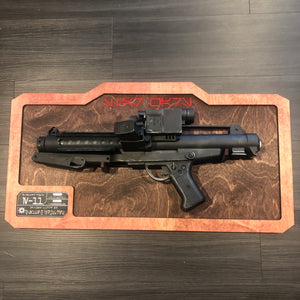 I finished two more blasters and had to make to two more mounts. The E-11 stormtrooper blaster and Mandy's IB-94 pistol.  The IB-94 is a Rubies repaint. I've had it laying around waiting for a repaint for quite a while.  I tried a few new techniques with this one.  I initially filled the plastic Rubies blaster with sand to give it some weight. It worked surprisingly well and it now how a good feel in the hand.  I also used alcohol ink on the grips to give it a wood look. You apply the alcohol ink in drops and use...
Posted by Chris Carpenter on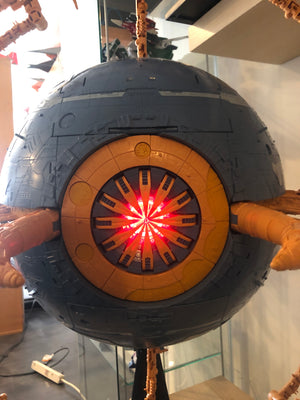 Got the sound and light installation for my Haslab Unicron complete.  You can read the first blog post here. The final install keeps most of the electronics inside Unicron with only the power bank and a USB cable exposed in the rear.  The final setup has a seven segment WS2812B led strip, Circuit Playground Bluefruit (CPB), DFPlayer Mini, a 3" speaker and a compact power bank for the power.  The code relies on the existing Adafruit Bluetooth Lowe Engergy (BLE) libraries for Bluetooth control. This lets me control the sounds and lights from my iPhone or an Apple Watch.  I'm...
Tags:

80s, adafruit, CCHobbyFun, circuit python, circuitpython, electronics, LED, led lights, LEDs, toys, transformers, unicron
Posted by Chris Carpenter on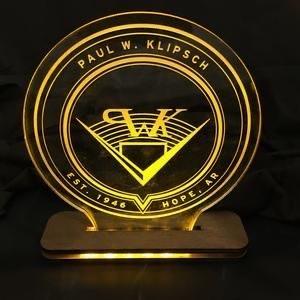 CCHobbyFun is now supplying edge lighted acrylic signs to speaker maker Klipsch for display in their heritage showrooms.  The signs can be seen in Klipsch stores around the world.  The signs featured the distinctive Klipsch logo and are mounted on a walnut stained base.  The soft yellow glow provides a distinctive accessory to Klipsch speakers and audio equipment.