Blog — marketing
Posted by Chris Carpenter on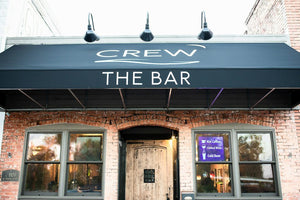 CCHobby created a pair of large lighted acrylic signs to brighten up the front windows of Crew, The Bar in Florida.  The signs provide a lively and inviting storefront to an already hopping bar.  Both signs are 24"x24" and enclosed in wood frames suitable for mounting.  One sign is lit in a static blue and the other it done in RGB allowing it to display in almost any color complete with flashing, fading and remote on/off. Please contact us if you are interested in similar signs or looking for something unique to suit your venue.         
Tags:

acrylic, Bar, Custom, edge lit, florida, lasercut, lasercutting, led lights, light, lighted signs, marketing, Signs
Posted by Chris Carpenter on
CCHobby is supporting the NASA Network Integration Center (NIC) at Goddard Space Flight Center.  CCHobby provided 23 lighted desktop signs and 3 large hanging signs as part of an overhaul of the NIC.  The signs are currently on display and the NIC is used as part of public tours through Goddard.        Lighted nameplate signs can be purchased here.  Please contact us if you are interested in custom signs or bulk purchases.
Tags:

acrylic, adverstising, edge lit, engineering, flight, Goddard Space Flight, laser cut, LED, lighted sign, marketing, NASA, rockets, signs, space