Posted by Chris Carpenter on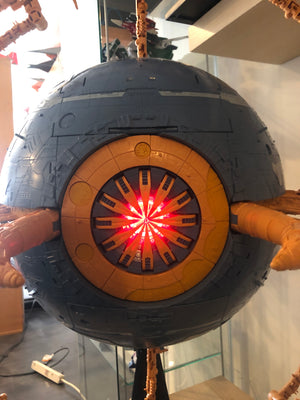 Got the sound and light installation for my Haslab Unicron complete.  You can read the first blog post here. The final install keeps most of the electronics inside Unicron with only the power bank and a USB cable exposed in the rear.  The final setup has a seven segment WS2812B led strip, Circuit Playground Bluefruit (CPB), DFPlayer Mini, a 3" speaker and a compact power bank for the power.  The code relies on the existing Adafruit Bluetooth Lowe Engergy (BLE) libraries for Bluetooth control. This lets me control the sounds and lights from my iPhone or an Apple Watch.  I'm...
Tags:

80s, adafruit, CCHobbyFun, circuit python, circuitpython, electronics, LED, led lights, LEDs, toys, transformers, unicron
Posted by Chris Carpenter on
When I saw the new Lego Batwing kit the iconic 80's scene of the batwing flying in front of the moon came to mind. I knew I was going to purchase it and it was going on a wall.  The only question was how to recreate the scene. I figure lighted acrylics were the easiest way.  The next problem was how light an area big enough for the whole batwing.  Edge lit acrylics work by reflecting light from the engraved portions of the acrylic.  You can wrap an LED strip around the sheet and have it illuminate whatever has been...