Blog — laser cut
Posted by Chris Carpenter on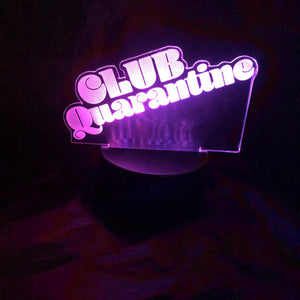 My wife has been really digging the @dnice Club Quarantine dance party.  It's been a really nice break while we stay at home. To help her get in the vibe a little more, I whipped up a sign.  I cut it out of 1/8" acrylic and put on a portable battery operated stand.  Perfect to setup any place in the house while she gets her groove on!      
Posted by Chris Carpenter on
CCHobby is supporting the NASA Network Integration Center (NIC) at Goddard Space Flight Center.  CCHobby provided 23 lighted desktop signs and 3 large hanging signs as part of an overhaul of the NIC.  The signs are currently on display and the NIC is used as part of public tours through Goddard.        Lighted nameplate signs can be purchased here.  Please contact us if you are interested in custom signs or bulk purchases.
Tags:

acrylic, adverstising, edge lit, engineering, flight, Goddard Space Flight, laser cut, LED, lighted sign, marketing, NASA, rockets, signs, space
Posted by Chris Carpenter on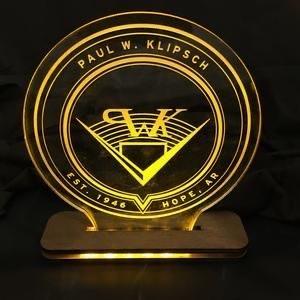 CCHobbyFun is now supplying edge lighted acrylic signs to speaker maker Klipsch for display in their heritage showrooms.  The signs can be seen in Klipsch stores around the world.  The signs featured the distinctive Klipsch logo and are mounted on a walnut stained base.  The soft yellow glow provides a distinctive accessory to Klipsch speakers and audio equipment.