Blog — edgelit
Posted by Chris Carpenter on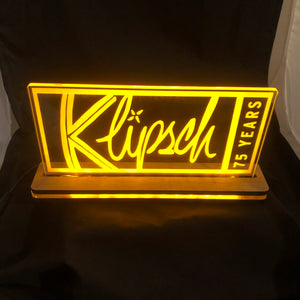 I recently completed a contract with Klipsch to produce lighted signs in celebration of their 75th Anniversary. Check them out: .   CCHobbyFun creates custom lighted signs. Reach out if you are interested in having something made for you, your company or event.
Posted by Chris Carpenter on
CCHobby recently designed 20 lighted nameplate signs for installation in the FAA Challenger Space Operations Room. CCHobby nameplate signs can be customized with any text, graphics or photos.  CCHobby was chosen because of another well received lighted sign installation at Wallops Island for NASA. The install called for the signs to be mounted on poles next to monitors in a control room style layout.  Custom 3D printed mounts were designed for the signs along with the logos and text. The mounts and signs all cam out great and the customer is very pleased. Here are some pics of the signs. ...
Tags:

3D printed, control room, Custom, DoD, edgelit, FAA, Government, LED lights, lighted sign, monitor, NASA, Wallops Island