Blog — adverstising
Posted by Chris Carpenter on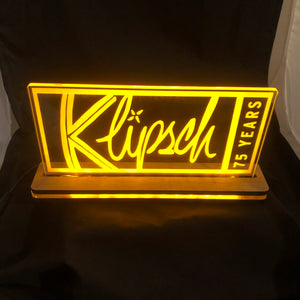 I recently completed a contract with Klipsch to produce lighted signs in celebration of their 75th Anniversary. Check them out: .   CCHobbyFun creates custom lighted signs. Reach out if you are interested in having something made for you, your company or event.
Posted by Chris Carpenter on
CCHobby is supporting the NASA Network Integration Center (NIC) at Goddard Space Flight Center.  CCHobby provided 23 lighted desktop signs and 3 large hanging signs as part of an overhaul of the NIC.  The signs are currently on display and the NIC is used as part of public tours through Goddard.        Lighted nameplate signs can be purchased here.  Please contact us if you are interested in custom signs or bulk purchases.
Tags:

acrylic, adverstising, edge lit, engineering, flight, Goddard Space Flight, laser cut, LED, lighted sign, marketing, NASA, rockets, signs, space